Best Culture to Perform Certification
About the certification
The Best Culture to Perform Certificate honours those who have shown that their culture best serves their strategy. The Best Culture to Perform initiative began as a response to business challenges in a highly competitive business environment. Its main goal is to enable organisational effectiveness by providing you with valuable and unique insights to build the Best Culture to Perform.


Engineered by the expert in Organisational Culture
Based on a proven track record of success, Hofstede Insights have engineered a Certification process that enables organisations, large and small, to reach true global effectiveness. It combines expertise in National and Organisational Culture, leadership development and managerial effectiveness.
What is Organisational Culture?
Organisational Culture is the way in which the members of your organisation relate to each other, their work and the outside world in comparison to other organisations. Understanding this context can enable you to use your Organisational Culture to your advantage.
WHY PARTICIPATE?
We see organizational culture as a certain way of working that either supports the strategic (sub) goals you have or not. Your organization may have multiple sub-cultures, each optimized to support a functional way of working given the context of each of these sub-cultures. A sub-culture can be, for example, the management team, the factory floor, support teams (HR, legal, IT), or geographical location.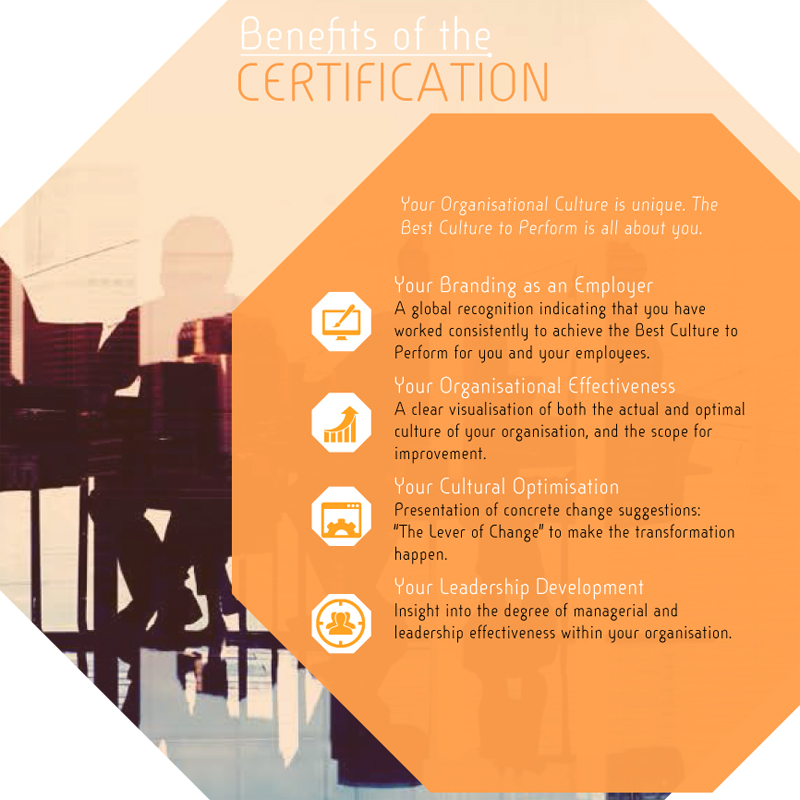 Make it Happen!
Together, we analyse whether your Organisational Culture supports or hinders your business strategy, and if it enables you to deliver the greatest results in a sustainable way.


The Certification Process
An Organisational Culture scan to show the gap between optimal and actual culture and opportunities to improve leadership effectiveness. A workshop with the leadership team to define the optimal culture that fits your business strategy(s). An analysis resulting in a diagnosis, and and the selection of where you want to focus your change initiatives.

We start with a kick-off meeting, we work with you to align your goals, and look at which sub-cultures are involved (e.g. which are strategically relevant)
| | |
| --- | --- |
| STEP 1 | We schedule a workshop with your top management where we connect your strategy to our cultural model and you decide what is the optimal culture for your organization (and its parts). Using our metrics to guide the discussion process, we give you insight into the context in which your organization finds itself. The context might be that you have a lot of financial pressure, it might be that recently you grew a lot; by not setting this context, any cultural transformation implemented could fail. |
| STEP 2 | Following the first workshop, we measure the actual and desired culture inside the selected parts of your organization. It doesn't matter if all employees participate or not, we don't invoice by number of respondents. |
| STEP 3 | An analysis resulting in a diagnosis, and the selection of where you want to focus your change initiatives. |
| STEP 4 | Presentation - we sit together again and decide on the next steps. Perhaps you are already eligible for "The Best Culture to Perform Certificate", or perhaps there are gaps you want to bridge – in which case we can provide further coaching. |
It doesn't matter what your strategy is. Our approach, which we base on the Multi-Focus Model, delivers insights into a range of roughly 200 topics, whether they concern productivity enhancement, building innovation cultures, building agile cultures, etc.
Contact

Best Culture to Perform

8095247541 | +91-98185-92779 | +91-70222-68706

bestculturetoperform@peoplebusiness.org